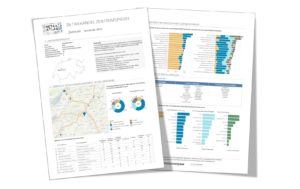 The Shopping Center Viewer offers comprehensive possibilities for the analysis of the more than 300 shopping centers in Switzerland. All shopping centers are classified into a type (village/city center, shopping mall, peripheral retail), size and micro-location. This way they are classified in apropriate benchmark for the analyses (see Shopping Center overview Switzerland).
How is the retail mix compared to the benchmark?
Which retailers are not yet present that are well presented in the benchmark centers?
The Center Viewers are either available for seperate shopping centers as pdf or as a dashboard-subscription for the whole of Switzerland.